This newly developed sheeter can easily be adapted to any multipurpose press, web finishing lines, laser printers, etc…
The electronic gear allows cutting any size and adapts to the register mark by the tactile touch screen.
The speed is taken from the host system by an encoder or dancer.
It can be moved from one machine to another in a few minutes.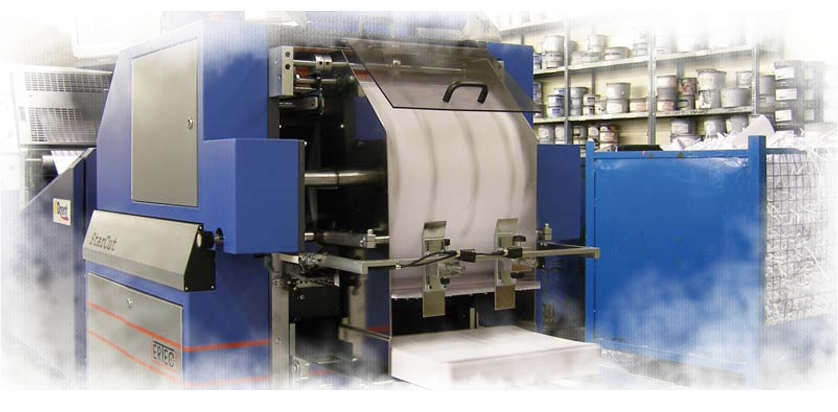 Salida de Hoja Variable con Apilador

Salida a Hojas Independiente de Configuración Modular y Formatos de Corte Variables
Simple y doble producción.
Partiendo de un formato de 12" realizar un doble corte y por aspiración retirar el material sobrante dejando un formato final de DIN A-4.
Unidad electrónica totalmente independiente, pudiendo conectarse a cualquier maquina Master.
Apilador con pre-selección para pilas de 50 a 1000 hojas.
Con o sin tensión en la banda de papel.
Más de 170 máquinas instaladas in 5 continentes.
La StarCut gracias a su salida en "molinillo" permite poder trabajar con papeles con soportes adhesivos o etiquetas integradas.
Poderla instalar delante de una u otra máquina es muy fácil. Su conexión es rápida y permite tener un equipo fuera de línea coplada a un módulo de desbobinado, trabajando como Master.
Especificaciones Técnicas:
Máxima anchura de papel:………….520 mm. (20,5")
Mínima anchura de papel:………….180 mm. (7")
Gramaje de Papel:……………………….60-220 gr./m²
Medidas de corte con un Cassette: 8-16"
Con Kit Especial: ………………………….6-17"
Apilador capacidad máxima: ……..1000 sheets 70 gr.
Máxima velocidad con un corte: ..180 mt./min.
Máxima velocidad con el cassette de
Doble corte i extracción de retal: 160 mt./min.
Máxima velocidad con rampa freno
y grupo de tractores:…………………..150 mt./min.
Opciones:
Grupo Tractor
Grupo de Vacío
Grupo Insertador
Cassette de corte formatos 17" a 26"
Mesa de salida plana para formatos mayores de 17"
Simple o doble Producción
Independent Variable Size Sheeter for Multi-Purpose Applications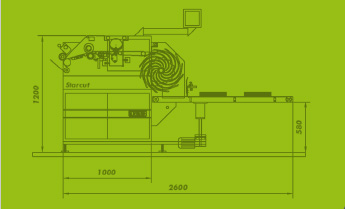 Single or double stream production.
Option for gap-out extraction. 12" to A4 portrait. 8 ½" to A4 landscape.
Independent electronic drive to be synchronized to any host machine.
Stacker with pre-selection for stacks from 50 to 1000 sheets.
Tension or tensionless operation.
More than 90 machines installed in 5 continents.
The StarCut features a "creel" style sheeting system that allows to handle difficult sheets with integrated or affixed labels.
Can be transported from one host machine to
another easily.
Technical specifications:
Máximum web width:…………………….520 mm. (20,5")
Minimum web width:…………………..180 mm. (7")
Weight of paper:………………………….60-220 gr./m²
Cut off size with one cassette: ……8-16"
With special kit: …………………………..6-17"
Pile stack delivery maximum: …….1000 sheets 70 gr.
Maximum speed single cut: ……….180 mt./min.
Maximun speed double cut
with gap out: ……………………………….160 mt./min.
Maximum speed
with tractor Infeed:………………………150 mt./min.

Options:
Tractor infeed
Vacuum infeed
Cardboard inserter
Cut off cassette for 17" to 26" sheets
Delivery table to formats longer than 17"
Single or double stream production
---