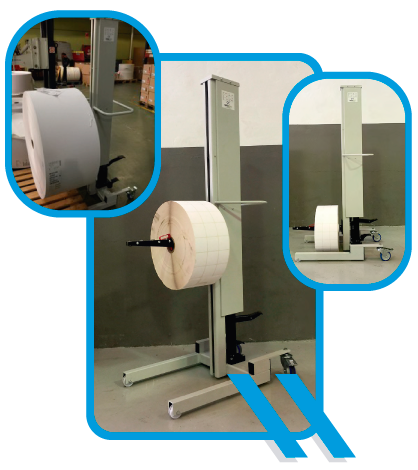 The roll lifters are mobiles, hydraulic lifting units for handling of paper rolls from storage area to printing press. The roll lifter includes two models: TEC-300 and TEC-300H with different lifting heights.
The support shaft is fitted with ball bearings on the top side for bettermovement of roll. The roll lifter can place the paper roll directly in the rewind or unwind section of a slitter or printing. Is is easy to use and ergonomic to prevent accidents and injury to the worker.
---
Los elevadores de bobina son unidades de elevación hidráulicas móviles para la manipulación de rollos de papel para máquinas de impresión y etiquetas. El elevador de bobinas incluye dos modelos, TEC-300 y TEC-300H con diferente altura de elevación.
El eje de soporte está equipado con rodamientos de bolas en el lado superior para un mejor desplazamiento de la bobina. El elevador de bobina puede colocar la bobina directamente en la sección de rebobinado o desbobinado de una cortadora o impresora. Es de fácil manejo y ergonómica para evitar accidentes y lesiones al trabajador.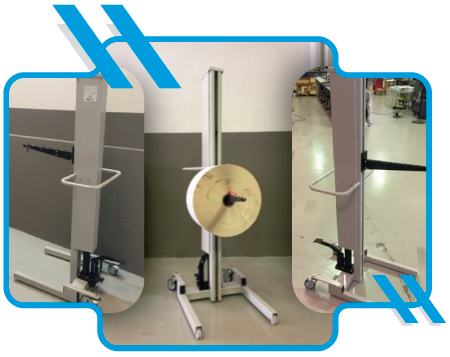 Technical specifications
TEC-300
max. web width (mm): 520
max. lifting weight (kg): 300
max. lifting height (mm): 1156
dimensions LxWxH (mm): 540 x 885 x 1780
weight (kg): 80
TEC-300H
max. web width (mm): 520
max. lifting weight (kg): 300
max. lifting height (mm): 1845
dimensions LxWxH (mm): 580 x 950 x 2095
weight (kg): 74
---